Introducing....Joshua Scott Jones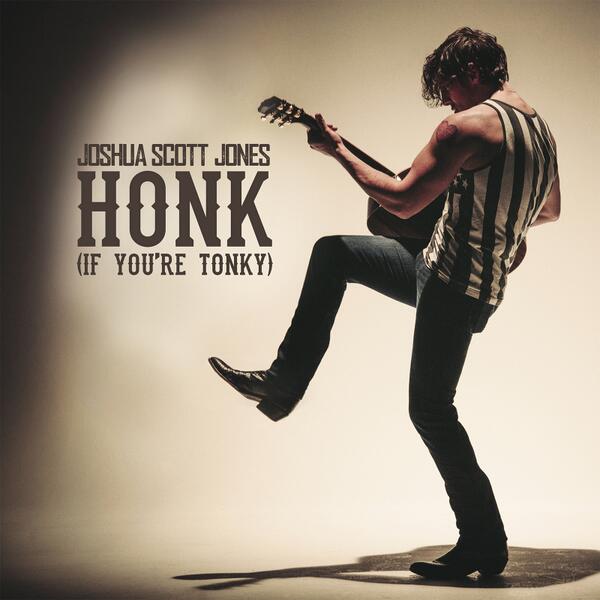 Already part of the country music family due to the success of duo Steel Magnolia, Joshua Scott Jones released his debut solo single
Honk (If You're Tonky)
yesterday. The track is co-written by Josh and Nashville songwriter Josh Alford and marks the lead up to the release of Josh's solo album
The Healing
which releases
later this year.
I have been a fan of Steel Magnolia for a while now so was certainly intrigued to hear solo music from Josh and the track does not disappoint. With a distinctive country rock feel, the instrumentalisation is a great part of the track. The acoustic guitar and cymbal combination that opens the song sets a rocky feel and a strong pace straight away and then that is added to when the rest of the instrumentalisation is slowly introduced.
Josh explains the reference to Tonky as "it means to get squirrelly, to have fun, to party" and the overall production and Josh's tone on the track certainly gives a party feel. With lyrics such as "if you're singing in the wrong key honey I don't mind" and the title lyric itself, Honk (If You're Tonky) is certainly a nod to the good times and I imagine it will be great to hear live.

Whilst I honestly think this is a great solo debut I do also hope that Josh includes some slower, more story based tracks in his album when it releases later this year. His time in Steel Magnolia proves he can do both well and I wouldn't want to hear him lose that.

The single makes it's radio debut on SIRIUS XM's "The Highway" in the US on Saturday 11th January with a video to follow in early February.
I was recently able to catch up with Josh in a break from his busy schedule and ask him some questions
Which artist would you like to collaborate with and why?
I think Norah Jones would be cool, and not just because we share the same last name. She seems easy to get along with, is a great songwriter and I think her bluesy, country vibe would compliment well with my style.
Which song do you wish you had written and why?
Based on what's on the radio now, I wish I wrote Florida Georgia Line's "Cruise" because they're kicking the most ass and selling the most records. When a song can cross over, it's a testament to a really great pop-country song that is cleverly written. Congrats to them!

From an artistic platform though, I would have to say Miranda Lambert's "House That Built Me." I love songs that can sneak up on me when I'm driving alone and make me cry. I'm a pretty tough ol' boy but a song that can make you cry is a beautiful thing.
Many listeners will only know you as part of Steel Magnolia, how would you describe your solo music?
My new music has allowed me in many ways to get more personal and a bit more dynamic. There's a little something for everyone on this record. The first single "Honk (If You're Tonky)" is a fun track, which gives listeners a little taste of some of my earliest influences Dwight, Garth, and healthy dose of rustbelt rock like Springsteen or Mellencamp.

There's still an active ingredient of the Steel Magnolia music because that's such a big part of me. It's not defined by one sound though. It's soulful, pop, rock, country music that will hopefully appeal to many.
With you and Meghan (Linsey) both releasing solo music are we likely to get any new music from Steel Magnolia?
Meghan and I have recorded some new music, but we are both so focused on our solo endeavours right now that we are focused on that. When we sing together it's magic and I know the fans are anxious to hear some new songs from us.

I'm not going to say when, but I am sure at some point the fans will get the new songs they've been waiting for.
What music are you listening to at the moment?
I like to listen to the radio to hear what's fresh and new. When I hear something I like, I always Shazam it and then go to iTunes to buy it. I still believe in music discovery and a good song always wins.
Where would be your dream venue to play?
I have played all over the country in so many amazing theatres and amphitheatres. I haven't yet played Red Rocks or Madison Square Garden. Those are next on my list as far as US goes.
What would you like to achieve in your career?
I want to achieve longevity. I strive to make songs that everyone loves and will listen to for the next 20 or 30 years. Even if I am not the one singing them.
What's your favourite part about being a musician?
I love everything about being a musician. As a touring musician, I love the travel, putting on a show every night, meeting the fans. You know, all of it.

But honestly what tops all of that is walking into a recording studio to map out your ideas and bring them to life. That's when I feel most grateful. When it hits me just how awesome it is to get paid to create and entertain, I feel Blessed.
What's your least favourite?
Airports.
What advice would you give to someone wanting to be a musician?
Work every single day at finding your true voice in whatever you do: whether it be singing, playing or writing. Dig deep and then dig deeper. Work hard. Don't quit. Find ways to do what you want to do no matter what they say. Don't be afraid of anything, there is nothing to be afraid of.
Any plans to tour the UK?
Yes I want to tour the UK. I can't wait to get back there as soon as I can. Stay tuned...
It is worth noting that if you are not a fan of the rockier side of country music then you probably will not like this track however I would definitely recommend checking out the full song (unfortunately the only video currently available is just a preview) - Josh's tone is great on the track and I have found myself playing the song on repeat often. I'm certainly interested to hear what his album brings!