Introducing....Daisy Mallory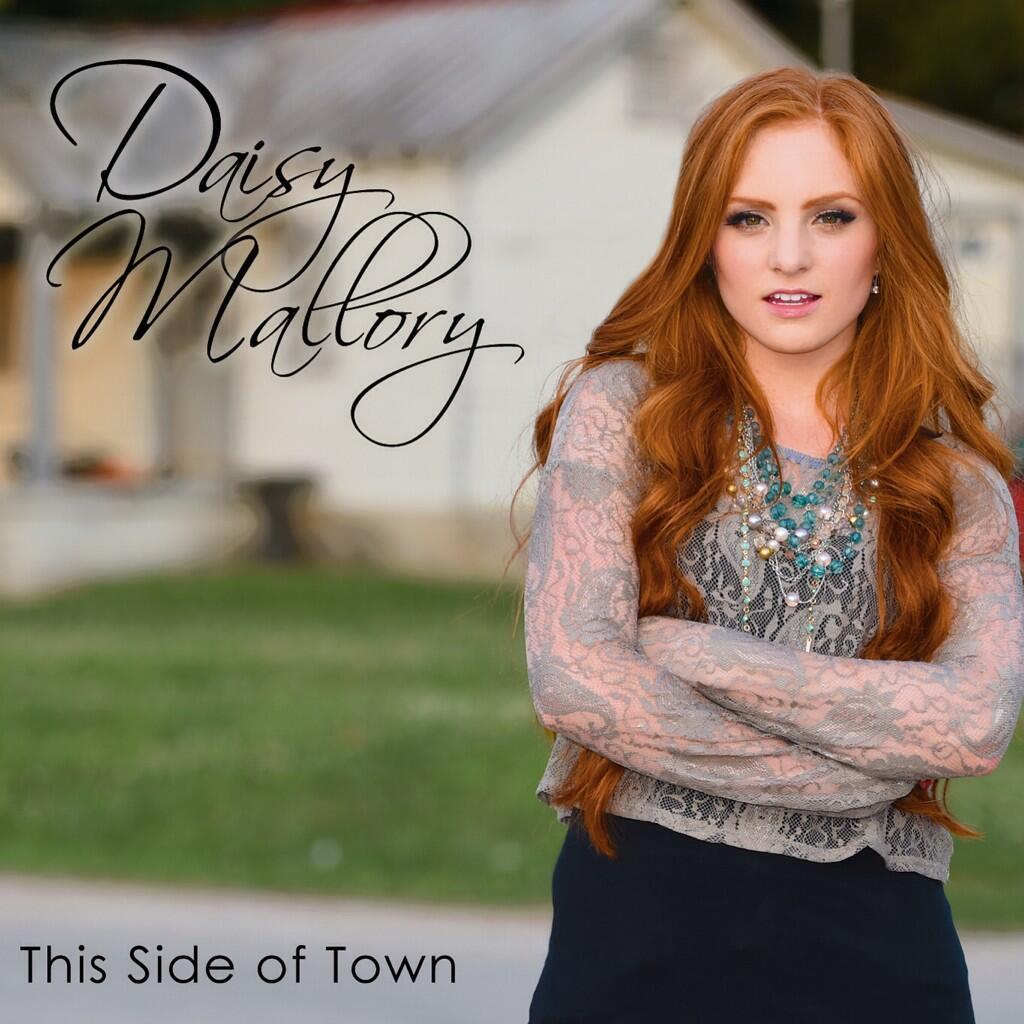 This Side Of Town
is American country singer-songwriter Daisy Mallory's fourth release. Released today, Friday 11th July, the EP features six tracks, five of which were written by Daisy herself.
The EP is a strong mix of tracks, with
Never Ever Coming Down,
Train
and
Music Inside Me
being the strongest in my opinion.
Never Ever Coming Down
is a strong choice as the opening track of the EP. Starting with an electric guitar hook, the production of the track seems very well thought through and is a nice cushion for Daisy's vocals. The instrumentalisation in the verses is mainly led by the drums and electric guitar and the addition of other production elements in the chorus such as a stronger use of the backing vocals and a synthesised hook differentiate between the two without being overpowering. The track also includes some of my favourite lyrics from the EP with lines such as
"I'm a feather in a rebel wind"
and
"a tiny little drop of rain that just don't want to fall".
In contrast to the country pop feel of
Never Ever Coming Down
,
Train
has an evident blues influence. The sound effect on Daisy's opening vocals sets a nice sound that in my opinion could certainly be continued longer than it is - although it does reappear at various points. As with
Never Ever Coming Down
, the track is led by the drums and electric guitar however there is a darker feel to the production, with more instrumental riffs featured and the instruments seem to play off each other nicely. Lyrically there doesn't seem to be much to the track however that is not necessarily a bad thing and the impressive production means that you have to truly search to find any lack of lyrics within the three minutes twenty eight seconds.
The soft acoustic guitar and drum opening to
Music Inside Me
immediately contrasts with
Train
- the previous track - and builds with the introduction of a harder drum beat and a short hand clap section which reappears many times throughout the track. The relatively simple production is a solid base for Daisy's vocals which are very strong throughout and this feels like the most emotive vocal performance on the EP in my opinion. Lyrically based around the line
"I won't leave this life with my music inside me",
lines such as
"I got a dream to live, I got a song to sing"
add depth to the track that I am sure will intrigue many listeners and the fact that Daisy wrote the track shows a definite strength of song writing.
The title track of the EP is perhaps the most sombre of the six. Lyrics such as
"round here the freaks come out and the sirens race, when the sun goes down"
and
"daddy bought me a gun just in case"
shows another side to Daisy and are originally unexpected but as the song builds the lyrics combine to a clever, emotive story that once again shows Daisy's song writing strength. At roughly two minutes thirty seconds in there is a short section with a stronger feel to the production which is a clever choice as it adds another dynamic to the track.
Track listing....
1) Never Ever Coming Down
2) I Remember Everything
3) Train
4) Music Inside Me
5) This Side Of Town
6) Used To This
I was recently able to catch up with Daisy and ask her some questions....
What first drew you to country music?
I grew up listening to all kinds of music but there was something about country music that's just very nostalgic, makes me think of home and makes me think of a different time and place. There's just something about it that's very homey and so when I decided that I wanted to do music it was kind of instinctive for me to do country. It wasn't something I kind of planned to do, I loved it so much it just came out! [laughs]
Your website mentions you first started learning cover songs when you learned to play the guitar, which was the first track you learnt?
"When You Say Nothing At All" by Alison Krauss. I love that song, I still play it, there's actually a couple of family members and friends who have had me play it at their wedding and so it's a song that goes a long way.
Do you still play a lot of cover songs live? Or is it mainly an original set?
I do, I always make sure I play a cover song at a show since a lot of people that haven't seen me it's something they can be familiar with. Tonight I'm doing a show here in the upper peninsula of Michigan and I'm probably playing close to eight cover songs in my hour set so people will definitely be familiar with the majority of the set.
How would you describe your music to new listeners?
Oh man....I'm so eclectic, I grew up listening to traditional country and rock and roll and then pop and Broadway stuff....my stuff....it's almost as if you took Michelle Branch and Alison Krauss, I love country but I love pop, so I just kind of mesh those two together [laughs] Hopefully,

because

I love both of them! [laughs]
Which artist would you like to collaborate with and why?
Oh, these are really good questions, I would love to collaborate with Reba, I think that would be cool to get two redheads together. I think that'd be awesome.
Which song do you wish you had written and why?
The one I can think of....there's a few that I'm like 'oh man I could relate to that' but "Homeboy" by Eric Church, that's the one that just came off the top of my head. I love clever writing, whether it's the hook or something where it means two different things, I love that kind of stuff so that's one of the songs.
You recently performed with Thompson Square as part of Luden's "Voices Worth Hearing", how was the experience?
It was such a blast, it was so so much fun. They're such great sweet people and the show was awesome, the weather ended up co-operating with us and it was a really really good time. So much fun, so much fun. They made it that much better because they're so sweet.
What would you say the highlight of your career has been so far?
There's been so many just really really cool experiences. My journey in Nashville, I've been visiting Nashville for about six years now and I can't even tell you how many just cool doors have opened, little things, big things, they all mean the same to me so it'd be really hard to pick. One that will always stick in my mind is when I sang for Mohammed Ali with Reba and Kris Kristofferson. That whole entire just little tidbit was just awesome.
How did that come around?
I think I was sixteen, just turned sixteen and I was living in Arizona at the time, just about to move to Nashville and Mohammed Ali has his event every year, it's for Parkinson's Disease, it's called "Celebrity Fight Night". I was living there and the manager I was working with at the time knew somebody and they kind of pulled some strings and.... [laughs]
You have a new EP out on Friday, did you write all of the songs for it?
I wrote five of the six. The first track on there is called "Never Ever Coming Down" and my producer wrote that with an artist Kelleigh Bannen. I think that Troy my producer is just such a great writer and I wanted to kind of show him some credit as well and just record one of his songs. This EP, its wild, I haven't released music in a little while so I'm excited, I'm nervous....but mostly excited.
What has been the hardest song to write?
A lot of people might be surprised by this but usually when something happens personally to me it's a lot harder to write about, it's so much easier for me to go and take from someone else's experience or to step into someone else's shoes. But when something happens to me it's a lot harder for me to sit down and be like 'here it is, this is what happened' [laughs] Those are the songs that take the longest at least to write.
What song is the most fun to perform live?
The fun songs because the crowd absolutely loves just really good happy upbeat songs, whether it's love, whether it's just about life, so those ones really fun. Especially when you get the crowd clapping, it's so much fun.
Where would be your dream venue to play?
Grand Ole Opry. Everyone says that I'm sure but since my first time visiting Nashville that's been one of my like 'one day, one day'. Of course I love travelling so I want to go everywhere, I want to go to the UK, I want to go to Australia, I want to go all kinds of places.
Do you get nervous before performing? How do you deal with nerves?
I do, naturally, but it's not a 'oh my gosh I'm scared I want to go crawl in a hole', it's more of an 'oh okay', it's just excitement. I always want to put on a really good show so sometimes I'm more nervous than other times, sometimes I have like no nerves and I'm just ready to do my thing! [laughs] It depends on the venue, how comfortable I am, if I know of someone in the audience, there's so many different factors but it's always good nerves.
Do you prefer to have people you know in the audience or just strangers?
I really don't mind either. When I played for Thompson Square in Oklahoma I have a couple of people that live in Oklahoma, a couple of family members, so they were there and that was really awesome that they were there and they were able to see me so I love that but then I've also played in front of people that don't know me which is also really fun because I get to introduce myself to these people....either way it's a really good time!
What's your favourite part about being a musician?
It doesn't feel like a job! [laughs] It never feels like work and I get to do what I love and no day is ever the same. I just love music, I love listening to it. I listen to it as much as I write and perform so I really do just live and breath music and so the fact that I get to do this every single day is unbelievable, it's an unbelievable blessing.
What's your least favourite part?
I don't think I have a least favourite! I really don't. The music business is really tough, it's a really tough business but then there are also parts of it that are beautiful and I meet people that are just so down to earth and will give me their hand and help me up. So, there's pros and cons I think of every job but I can't complain, I really do love what I do.
What's the best piece of advice you've ever received?
Never give up. It sounds like one of those things like 'follow your heart and never give up' but it's so so true because the music business is tough and there are people that move to town and after four years they move back home or they're like 'well let me pull out my plan B' and they go to college or they get a job. With the music business you have to just stick with it because something will happen whether it's in songwriting, whatever it is if you just focus and use kind of tunnel vision and so people just tell me just never give up and I'm like 'okay I won't'! So many, so many good pieces of advice.
What advice would you give to someone?
Probably, I would say never give up but I'd also say step out of your comfort zone, that's were I've done most of my growing, by doing things that I'm afraid to do or putting myself in front of people that may intimidate me or....there's so many different things. Also knowing that - I have a lot of pieces of advice [laughs] - when performing put on your best show regardless if there's one person in the room or ten thousand because you just never know who's in the room and I've learnt that first hand. I've been in a coffee shop in nowhere Nashville and there's been a label sitting in the room and there might have been four people so you just never know. So be on your game and never give up.
If you could play any instrument what would you pick?
Well, oh man....I can play a couple of chords on the mandolin but I would love to be able to just kill it! [laughs] So, one day I'll make that happen. Right now I just play guitar but mandolin would be great.
What would you say your favourite country song out at the moment is by any artist?
Oh my gosh, I'm one of those people like in the car I listen to a song and I'm like 'this is my favourite' then the next song comes on and I'm like 'no this is my favourite'. What is my favourite right now....humm....man I don't know. I don't think I can pick, there's so many, I listen to all genres of music as well so I have a lot of favourites I don't think I can narrow it down.
You touched upon in, are there any plans to come and play in the UK?
I don't have any plans set in stone right now but I would love to. I've always wanted to, my namesake is from Liverpool. I want to go to Liverpool and I want to just travel around so definitely I will one day. I don't know when but I have some friends that perform over there and they know of venues and we've talked about it before so I want to make it happen, we'll see.
This EP is definitely proof of Daisy's song writing skills and also her ability to sing other writer's tracks well. She has a versatile, well-rounded vocal that I am sure will win her many fans. She has yet to release a full length album and I would certainly be interested to see what that would bring considering the opportunities she would have with more songs. The EP is available digitally in the US and internationally and I would definitely recommend listening!