The Bluebird Cafe at C2C 2016!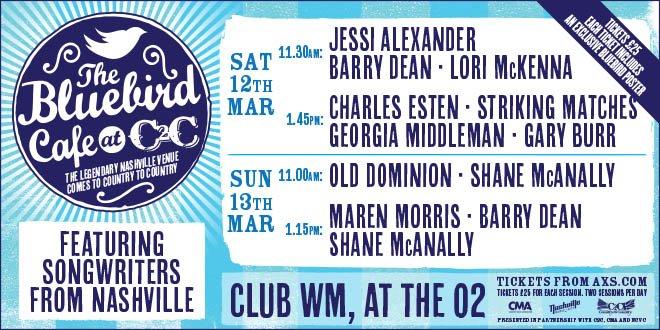 THE O2, LONDON
The Bluebird Cafe at Country to Country
Featuring Nashville-based songwriters including Lori McKenna, Shane McAnally, Barry Dean, Jessi Alexander, Gary Burr and Georgia Middleton, plus Charles Esten, Striking Matches,
Maren Morris and Old Dominion
Nashville's world famous Bluebird Cafe (as featured in the Nashville TV series) is coming to London for the first time with ticketed, early afternoon performances (before the main arena opens) in The O2's listening room, Club WM, as part of the Country to Country Festival.
Since opening its doors in 1982, The Bluebird Cafe has become a world famous a venue where up and coming songwriters and artists rise to fame and build careers. From the novice to the star, all levels of songwriters are welcomed and supported. Garth Brooks, Taylor Swift, Keith Urban and Trisha Yearwood took crucial early steps at this venue when they were unknown.
Two programming slots on Saturday and two on Sunday.
Saturday March 12 –11.30am
JESSI ALEXANDER, BARRY DEAN and LORI McKENNA
Saturday March 12 – 1.45pm
STRIKING MATCHES, CHARLES ESTEN, GEORGIA MIDDLETON and GARY BURR
SHANE McANALLY and the members of OLD DOMINION
BARRY DEAN, MAREN MORRIS and SHANE McANALLY
Each slot will be ticketed and ticket prices are £25 - each ticket includes an exclusive Bluebird Cafe poster. Tickets can be purchased from:
www.axs.com/c2c
08448 24 48 24.
BARRY DEAN
, originally from Kansas and now based in Nashville, is a CMA and Grammy Award winner who has co-written numerous hits including "Pontoon" and "Day Drinking" for Little Big Town, "Tattoo" for Hunter Hayes, "Diamond Rings & Old Barstools" for Tim McGraw, "On To Something Good" for Ashley Monroe and "Anyone Else" for Blake Shelton.
JESSI ALEXANDER
is one of Nashville's most prolific and talented songwriters. She recorded for Columbia and released her debut CD in 2005 and enjoyed a couple of hits before changing course and focusing on an award winning and very successful career as a songwriter. She's co-written big hits for Miley Cryrus, Luke Bryan and the CMA Award winning "I Drive Your Truck".
LORI McKENNA
has become one of Nashville's most in-demand Country songwriters. Her songs have been cut by artists such as Faith Hill, Alison Krauss, Tim McGraw, Reba. Her co-written song, "Girl Crush" recorded by Little Big Town won a Country Music Association Award for Song of the Year and Single of the Year and is nominated for a Grammy for Song of the Year, Best Country Duo/Group Performance, and Best Country Song. Along with her successes as a songwriter, McKenna has released critically acclaimed studio albums. Her latest CD, Numbered Doors, was named one of the 40 Best Country Albums of 2014 by Rolling Stone.
STRIKING MATCHES
comprise Sarah Zimmermann and Justin Davis who occupy the sweet spot at the intersection of country, rock and blues, where all of the elements blend to form an authentically raw and rootsy sound that has a timeless and international appeal. They've written songs for the "Nashville" series and toured with Ashley Monroe, Keith Urban and Train,
CHARLES ESTEN
is best known for his role on "Nashville" playing the character of Deacon Claybourne, but is quickly gaining acclaim as a singer-songwriter in his own right. He has performed at the Grand Ole Opry, the historic Ryman Auditorium, and Bluebird Café and is a featured artist on the eight successful "Nashville" soundtracks that have been released to date.
GEORGIA MIDDLEMAN
originally from Houston, Texas and now Nashville-based has written songs for the likes of Reba McEntire, Faith Hill, Tracy Lawrence and Radney Foster. She is married to fellow-songwriter Gary Burr (see below) and they have recorded together and also perform as a trio called Blue Sky Riders with Kenny Loggins.
GARY BURR
is an American musician, songwriter and producer who started out in Pure Prairie League and wrote his first hit, "Love's Been A Little Bit Hard On Me", in 1982 for Juice Newton. Inducted into the Country Music Songwriter's Hall of Fame, he's recognized as one of the most successful songwriters in music history with hits spanning pop, country and even Latin music.
SHANE McANALLY
is a CMA Award-winning songwriter and producer who has penned 15 and counting career No.1 songs for artists, including Miranda Lambert, Brandy Clark and Lady Antebellum, and is a frequent collaborator of Kacey Musgraves, having co-produced both of her studio albums (Same Trailer Different Parkand Pageant Material) and contributed as a songwriter to the albums.
OLD DOMINION
's spirited take on modern country can be heard on their debut CD, Meat and Candy. The songs sparkle with clever lyrics and innovative instrumentation. "When we first sat down, we had a lot of sing-a-long, fun, 'candy' songs," says lead singer Matthew Ramsey. "We decided we needed to show our more serious side a little too. We needed 'meat' songs too!"
MAREN MORRIS
from Texas has quickly established herself in Nashville's music community with songwriting and vocal styling's that reflect her country, folk and pop influences. The female singer/songwriter was named one of CMT's Next Women of Country as well as a CMT Listen Up Artist of 2016, VEVO Discover Artist, SiriusXM "Artist To Watch in 2016," one of Spotify's "Spotlight on Country 2016" Artists and many 2016 Watch Lists including USA Today, Billboard and the Huffington Post.
Folks such as
Keith Urban, Vince Gill, Faith Hill, Kenny Chesney and Trisha Yearwood all performed at the Bluebird on their way to the top of the charts. Garth Brooks performed on both the Open Mic and Sunday Songwriter's Shows before he was discovered – at the Bluebird – and signed to Capitol Records. Taylor Swift performed in the round in 2004 for record label executives at the club, leading to her relationship with Big Machine Records. Kelsea Ballerini waited in line to attend Bluebird shows, and then garnered her own seat at Bluebird in the round performances before rising to stardom.
A typical show at The Bluebird features 3 or 4 songwriters performing, "in the round", a format made famous at the club where the performers take turns playing their original music, sharing the stories behind the songs and accompanying each other instrumentally, and with backing vocals.
Over 80,000 people visit the venue annually; many of them as a result of seeing the Bluebird on television in news pieces, The Foo Fighters' documentary, Sonic Highways, the feature film, The Thing Called Love or most recently on the ABC hit drama, Nashville. The Bluebird Cafe has been featured in publications such as Southwest Spirit, National Geographic Traveler, The New York Times and Rolling Stone magazine where the club was voted one of the Top 10 Best Clubs in America.
The Bluebird Cafe performances have travelled on the road to places such as Robert Redford's Sundance Resort in Utah, to Napa Valley in CA, New York City, Los Angeles and most recently to the Bluecoat in Liverpool and soon to the O2 as part of the C2C festival in London.