Introducing....Brassfield Aly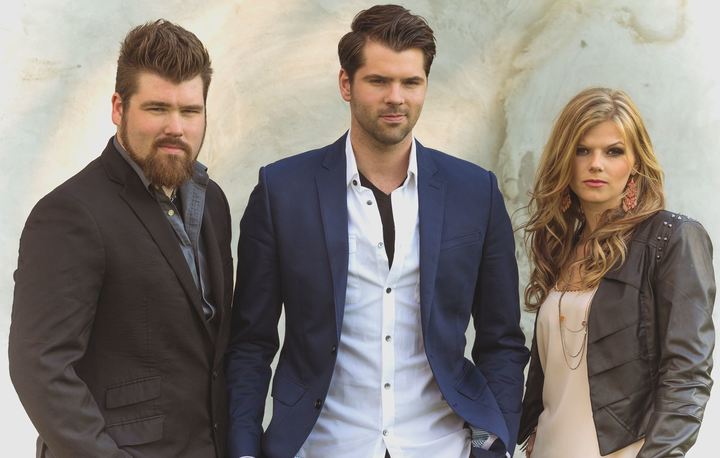 Brothers Bradley and Chadley Brassfield form Brassfield Aly alongside Aly Cutter. I was recently introduced to their music and you can find various songs on YouTube alongside two digital downloads,
Cheap Shades
and
Won't Burn You
.
The (relatively) softer track of the two,
Won't Burn You
is also the most recent release from the trio. The instrumentalisation has a relaxed, bluesy feel and a catchy drum hook that draws you in and leaves you tapping your feet along. Interestingly showcasing another dynamic to the trio whilst still managing to sit comfortably alongside previous release
Cheap Shades
,
Won't Burn You
seems to be a good fit for the trio but does feel slightly overshadowed by the country-pop of
Cheap Shades
when you compare both tracks.
Cheap Shades
is where the trio really begin to shine. The more upbeat, poppy track of the two, the summery production, tight harmonies and overall easily repeatable feel behind the track create a very listenable moment and one that I am sure is a lot of fun to hear live! Whilst both
Cheap Shades
and
Won't Burn You
are strong tracks it feels as though the former has an additional quality that will draw more listeners to it. It's certainly a track that I've been playing on repeat!
I recently caught up with Chadley to ask him some questions....
What first drew you to country music?
I've always listened to country music growing up so I think it was just kind of natural...we're from the South, me and Bradley are from a small town in Mississippi and we talk like country singers! [laughs] I think it just felt natural, we grew up listening to country and gospel and that just kind of led us to be in the genre that we chose. We love it, it feels right and natural for us.
What prompted the decision to come together as a trio?
So that's a bit of a longer story but I'll give you an abbreviated version of it. Of course me and Bradley are brothers from Tupelo and Aly's from Florida and to make a long story short we met on Facebook. Me and Bradley and our younger brother had posted a video and Aly's producer saw it and he fell in love with me and Bradley and our younger brother. To make a long story short my little brother ended up not being in the group and we ended up joining up with Aly. It's just really worked out and I can't explain it but when we sing together it just sounds really good. Me and Bradley have sung with a lot of girls before and it doesn't sound like it does when it's with Aly. It was a God thing.
How would you describe your music to new listeners?
Our music's different...we get asked that all the time like what differentiates us from The Band Perry or from Lady Antebellum and I always tell them the same thing, we all three can sing lead. We all three do sing lead in our songs, 'Cheap Shades' you mostly hear Bradley and then there is a point in the song where you're going to hear Aly sing a piece and myself and our other song 'Won't Burn You' is the same way. We write a lot of our songs around the fact that we have three lead singers in our group, Lady Antebellum has two, Rascal Flatts has one, The Band Perry has one but we all three can sing lead so we're very versatile. In our live performance we can pretty much do any cover because at least one of us will be involved by somebody they're asking for usually so we're very blessed in that regard. But what makes us different is that we can all three sing lead and also the fact that we blend like a family, even though Aly's not our family it sounds like she is.
Do you ever find yourselves disagreeing about who sings lead in a particular track?
No, not at all, as a matter of fact I prefer to stick to the harmonies unless it's like an Elvis or a Bruno Mars song, I get to sing those [laughs]. We get along great, usually it's just the label or the producer or somebody or it's just whoever's voice sits best. But none of us care, we just want it to come across to the fans, that's really all we care about.
How do you feel your music has evolved since you first started playing together?
It's evolved a whole lot because when we first started off we were searching for a niche in the country industry and we couldn't figure out what it was that made us different. It shouldn't have taken us so long but it did, we started off thinking that we should write a whole bunch of girl-guy songs and we found out that Lady Antebellum were doing that so our music has evolved because we finally realised what our niche is and we started writing songs that fit our blend really well. Not all of our songs have three lead singers, some of them have just mainly Bradley or mainly Aly but we find songs that fit our blend and we write those type of songs or we search for those from other writers.
Have you ever been offered a song and regretted passing on it?
No I have not, we all have a really good ability to know a hit song when we hear it. 'Cheap Shades' wasn't written by us, it was written by three of the biggest writers in Nashville and when we heard that song we knew it was a great song. So far we haven't got to the point in our career where we've involved with too many songs where we've passed on a great one and I hope we never do have to have a story like that! [laughs].
You currently have two songs formally released, which is your favourite of the two?
That's tough...I would say that my favourite's 'Cheap Shades' . I think 'Cheap Shades' is a hit song, that's my opinion of it. I think it's marketable, people can relate to it because I don't know very many people working around with RayBans [laughs]. I think most people get their shades and then they lose them and buy another cheap pair and then they lose them or they break them. But if I was choosing off of just which song was written the best I might say 'Won't Burn You'. I love both of them in a unique way but I would say 'Cheap Shades' is the song that is a huge hit for somebody, hopefully for us one day!
Can we expect to hear a full release any time soon?
We're working right now, we've got a great management company here in Nashville and we have a great booking agency. Right now we're looking to get another record label deal, we got out of our deal with Black River Entertainment and now we're looking to find another record label so hopefully soon. We're actually going to be in the studio July 8th recording some new music and we also just released a couple of original songs on YouTube and Facebook in the hopes that fans like those enough for us to go and get one of those recorded. We want to see which one the fans like the best.
Do you write each of your tracks as a trio?
Not always, we try to get together as much as possible to write but occasionally there's been times where we've recorded songs that just Aly has written with other writers in town or I have written with somebody else or Bradley. It tends to be a lot easier if we're all in the room because we can all listen to each other sing.
Do you sometimes find it difficult to all agree upon a track's direction if you write together?
Not really, we're pretty all agreeable. Bradley is very easy-going, he just kind of goes with the flow which is great [laughs], Aly and myself can be a little bit more controlling but we all get along. We all pretty much write the same music so we usually agree on that. We've been a band for six years and if you can stay with somebody for six years then I think you're past the rough spots! Kind of like a marriage.
Which track do you wish you'd written and why?
Out of the two we've recorded I would say 'Cheap Shades' just because...I know I keep going back to that song. I just think that out of the two songs that's going to be a hit and on country radio for somebody if they're not scared that we've already recorded it! I think it's just a very relatable song that nobody has written about yet and that song captures all those images and puts you in a good spot, it puts you in a happy place when you hear it. I think that I really would love to have written that. If I'm just naming songs that I wish I had written period I'd probably choose 'What Hurts The Most' from Rascal Flatts or something like that. I love that song.
If you could create an ideal tour to be a part of who would that involve?
For me it's easy, I would choose Bruno Mars, he's my hero. If I couldn't choose Bruno Mars I would choose either One Republic or Rhianna. Bradley would probably say some 90's country singer or Maroon 5 and Aly would probably say Maroon 5 [laughs]. As far as in the country industry I've always wanted to collaborate with Rascal Flatts or Diamond Rio, someone like that.
If you could only ever listen to one album which would you pick?
One album of all time...it would probably be 'Native' by One Republic or 'Unorthodox Jukebox' by Bruno Mars, those are my two. Probably 'Unorthodox Jukebox', I'll say that if I can only pick one.
Are there any plans in the works to tour the UK?
Ah no, I would love that. Right now we're trying to travel regionally and create a big huge following but we would love to come to the UK, I hear it's beautiful. You find Adele and I'll come and we'll just hang out with Adele [laughs].
Thank you to Chadley for his time! I'm intrigued to hear how Brassfield Aly develop as a trio through future releases, definitely worth keeping an eye on them!