Nashville In The Round, Winemakers Club London
Last night saw the first night of the Nashville In The Round tour at The Winemakers Club in London. The tour itself comprises Sarah Darling, Kyshona Armstrong and Jenn Bostic with an opening set coming from Robert Lane.
This is the first time that I had visited The Winemakers Club and I was both intrigued and impressed by the overall venue. Taking the form of an old wine cellar under a railway bridge (which in itself is intriguing!), The Winemakers Club is not the biggest of venues but is well run and the intimate feel to it gives a great atmosphere. There are two areas within the club, a general 'foyer' with small tables and the bar and then the actual room where the gig took place. It also felt like a really nice touch to have the main light for the show coming from candles placed in indents in the wall.
Whilst his inclusion hasn't been incredibly well publicised, Birmingham (UK) native Robert Lane delivered a very strong opening set which is sure to have won him a myriad of new fans amongst the assembled audience.
Mixing songs from his currently released EP and album alongside a very strong cover of the BeeGees hit To Love Somebody, Robert did very well to have the audience singing along and laughing and joking with him. I was definitely very impressed by the set he delivered and am looking forward to sitting down and listening to both his EP and album properly!
I would urge anyone who is due to see this tour to make sure that they arrive early enough to see Robert's set, it's definitely worth it and I am sure you will leave a fan afterwards. Great songs, incredibly talented guitar player and great vocals as well!


After a short interval Jenn, Kyshona and Sarah took the stage for their 'in the round' style set. Starting the round off, Sarah smoothly slipped into You Take Me All The Way - one of her newer tracks - which will actually be released on iTunes on September 23rd - with the lead then passing through to Jenn and Kyshona respectively. One of the nicest things to see (and hear!) was the musical interaction between the three, with well thought through musical accompaniment and gorgeous harmonies.
You could instantly tell that all three artists were really enjoying themselves and are good friends and it quickly felt like an informal get together rather than a formally arranged show which made the atmosphere of the night even nicer. The trio smoothly picked up on the warmth from the audience and built upon the interaction Robert had started, laughing and joking with each other and the audience as well as getting them to sing along at various points. Each artist brought something different to the set-up, with Jenn channelling a smooth vocal with a gutsy power behind it, Kyshona rooted in an impressive gospel styling and Sarah the more typically country of the three, with a soft vocal that holds an interesting edge.
There were some great moments throughout the night but what really stood out for me was Jenn's final performance, a rendition of her hit Jealous Of The Angels. Cueing the song by explaining the story behind it to the audience, Jenn delivered an emotive, heartfelt performance that is sure to have touched everybody there and is certainly the first time I have ever cried at any point during any live performance - it was stunning, I would definitely advise everyone to take tissues! Jenn has a great vocal and also manages to pour pleasantly surprising power into her voice without loosing control at any point.
I had seen Sarah live before so knew roughly what to expect from her vocals and overall performance but was still very impressed by what she brought to the trio. There can be no doubt that Sarah has the softest voice of the three but she embraced that fact and smoothly travelled through songs that made the most of her vocal, particularly highlighting songs from her upcoming new album Dream Country.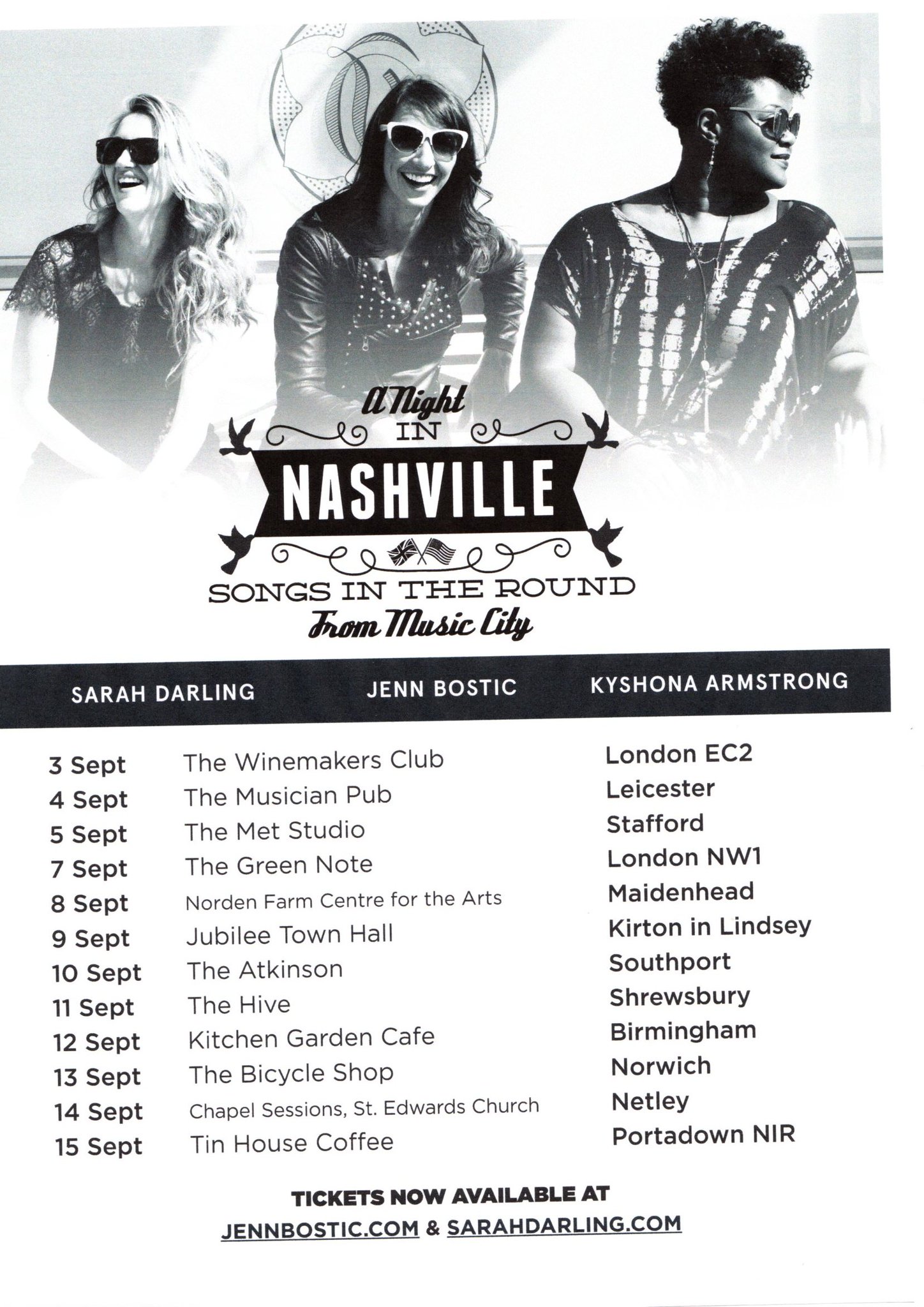 Whilst I hadn't seen Jenn or Kyshona live before last night I have been following Jenn's music for a while now which meant that, as a new discovery, Kyshona was an unknown quantity. I was, however, very impressed with her as an overall artist. With influences clearly rooted within gospel music, Kyshona mixed different tempos and different overall stories behind each track to give a well rounded performance and showcase herself as a very strong singer and song-writer.
Each artist should also definitely be commended for being brave enough to deliver stripped back vocal performances that left them no space to hide vocally throughout the night. I can definitely recommend this tour to anybody, it was a superb performance from three very talented artists. With an evening rounded out by a brilliant cover of Fields Of Gold, Jenn, Sarah and Kyshona received a well-deserved standing ovation from a very appreciative audience. I wish them luck for the rest of the tour and hope to see them all back here again soon!
Credit to Dragon Photography for the gig photos!